IMPROVING MARKETING AND BRAND VOICE WITH STRATEGY AND COPYWRITING FOR CREATIVE WOMAN
Having copywriter mentors who have earned millions for their clients. And, working professional editors. Helped me to develop an effective process to write effective copy.

Develop Your Business In The Creative Or Self-development Industry. With A Copywriter That Improves Your Business Through Testing And Ideation.
You Can Create a Greater Impact For Your Audience. Increase Sales. Improve Brand Loyalty.
 Through Tested Personalised Funnels. Focused On Achieving Your Business Goals And Developing Your Dream Business.
Getting The Support You Need When Tackling Big Problems.
You want a well-integrated business with processes ready to scale

Have the clarity that gives you an accurate target and goal
 Have the time for deep thinking, fun and new experiences
Do you need a structured plan to balance out your creativity?
Need help getting predictable results and start feeling in control?
Ready to have copywriting that represents you in an authentic way?
A safe and steady way to build sales systems for growth-focused and creative people. 
With access to your software metrics, I'll be able to make better fact-supported incremental changes. To improve your results over time.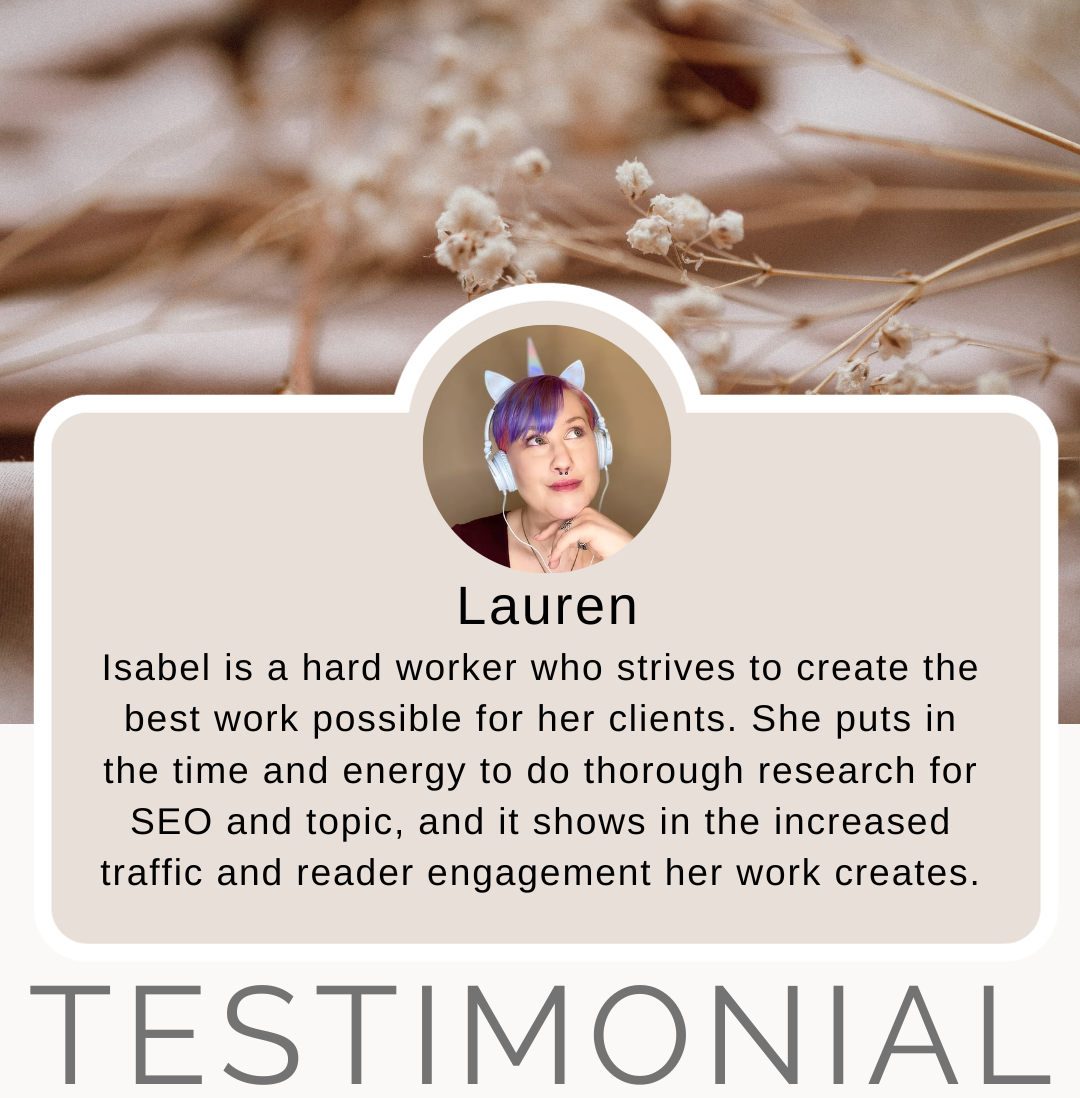 For Creative Women With An Audience of 2,000 +
Done-for-you copywriting and strategy in e-commerce, education, and/or services
Better clear messaging and delivery to make a bigger impact on your customer journey
Analyse your customer journey then address their needs and desires (make your audience feel seen, heard and understood)
Help your audience make correct buyer decisions (why pick you over your competition) 
Increase sales, Increase return customers, lower your customer churn rate, and create a healthy scaling business
Define your unique place in the market through differentiation, positioning, personality, messaging and visual identity

Build brand trust and consistency through systems and processes that help you to give more to your audience without the stress and strain
Additional services can include; 
A/B Testing, Marketing Audits, Brand Guides, Strategy Outlines, and Maintaining a High-Quality Email List.
The strategy will help you create focus to work toward your business goals and help solve potential problems.
Perfect For Creative People Who Need Structure, Stability and Focused Direction.
What Are You Struggling With?
Copywriters are able to consolidate and organise your ideas, offers and emotions packaged in a clear way. To understand your business or customer problems enough to find new angles to resolve them.
Reframing problems can help us interpret the situation into something helpful.

One of the greatest advantages of having a copywriter is executing multiple tests. Tests that lead to evidence-supported marketing strategy with an understanding of your audience. 
Brands can attract different avatar profiles with different wants and needs. Understanding your audience's needs can reduce customer churn and increase lifetime customer value.
Leave out the guesswork to feel supported when scaling your business with structure and a developed plan.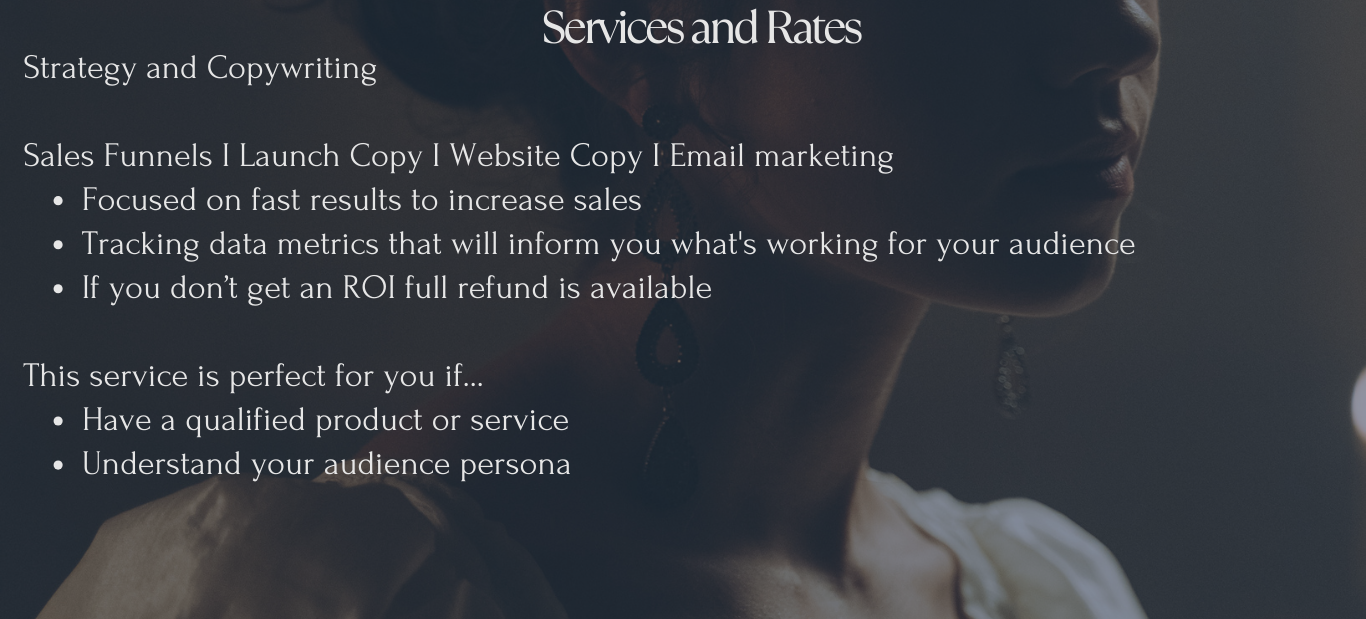 Attract The Right Customers
What do you want your customer journey to look like?
What does your customer need? 
How can we bridge the gap between where they are now and what they want to be?
What are your customer motivations?
What will get them from brand awareness to buyers in their journey?
Do you know how to turn buyers into loyal advocates?
Do you know what your competitive edge is?

Customer journey is about...
Meeting their psychological needs. Changing their current limiting beliefs. Motivating them to take action.
Having a copywriter who understands your goals and thought process can help you overcome blocks. Especially if you get bogged down by new information or become distracted.

FAQ
Why Does Copywriting Matter?
Copywriting can strengthen and enhance your brand image. You'll be giving your desired audience the best first impression. In a way that emotionally resonates and addresses their needs.

This gives you an opportunity to become your audience's advocate. Listen to their needs that other brands aren't addressing and form a stronger relationship. By showing you listen you can make them feel heard and empowered.
Most busy founders don't have the time, expertise or motivation to complete this project DIY. 
Why do you want to change your copywriting? What is it missing or failing to do?
How I Think About Marketing?
Marketing (and copywriting) is simple if you only think about how you can best serve your customers and audience.
This is a very empathetic approach that allows me to holistically and thoroughly understand the needs and motivations of the audience. (Much like Seth Godin's approach)
Much like 'win without pitching' this approach attracts the right people to you and repels the rest.

What's In A Copywriting Project?
Copywriting without strategy is not congruent or aligned with a specific goal or outcome. Making it hard to justify this investment and assess it's value.

Strategy makes sure that deliverables are aligned with your brand goals. With trackable key performance indicators indicating a clear ROI making it a worthy investment. 
Strategy can also help define and develop your goals. The strategy will help define and narrow down what your needs are. How to best way to deliver them. Saving you time and money. Bringing you more clarity and focus.
The deliverables then can be decided based on how will impact your business and give you the best value for price.
About The Process.
An integrated workflow with Google Docs. Makes it easy to work with, store and navigate, your project. 
Increasing productivity, and helping with open communication. The project overview includes editing instructions, a schedule, well-formatted files and a project overview.
Having structure in a business is key for stability, predictability, new iterations and improvements.
How Can I Give You More Value?
Other than strategic thinking and ideas for problem-solving. It's to help you reach your ideal brand and business lifestyle. 
Anything outside the scope of my work can be solved through deal acquisition. Where I find and help you acquire qualified experts to help elevate your project. 
This acquisition is usually priced at 20% of the project.
Therefore if you need services, tools, designs, or software outside of strategy and copywriting I can help to accommodate you.  

Do You Offer Payment Plans or Discounts?
For the first test projects. My clients usually get discounted prices to make sure the client is satisfied with the value and working together going forward.

For projects over $4,000 payments are done 50% upfront and the other 50% after the first draft.

For projects below $4,000 payment is required upfront. 
If a client wants to be put on a monthly retainer or wants a payment plan. This will be decided on a case-by-case basis. Given the right terms of agreement, this can be arranged. 
Who Is This Not For?
My dream clients make it easy for me to be happy and excited about their wins. Seeing them motivates me to find more ways to give them value.
Here's who I'm not for;
The cheap
The selfish

The shallow
The fakes

Those who see me or creativity as a commodity
Those who think too small

Those who think short-term relationships 
Will We Work Great Together?
Do you value creativity, stability, honesty, growth, and freedom? We can align on that.

Creating resonating messaging for your audience by addressing their motivations and desires. It's not just about what you say, but how you make people feel.

Every client has a different vision for success. This is why my process is personalized to address your needs. So, your efforts can be utilized effectively. 

Joined a high-quality coaching copywriting course. With people who have made millions for their clients. I'm just one message away from them if we ever need help.

Learning about storytelling helped me gain a deeper understanding of writing. Such as word choice that represents your intentions, tone and brand style. This in-depth understanding can be utilised in copywriting as well. To give me a unique perspective and ideas.

Being able to articulate yourself with the right words gives you more freedom to express yourself more accurately. To let people know you better. To be more honest and authentic.
Let's start planning how to reach your goals on the discovery call.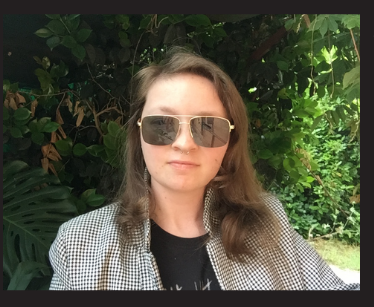 About Me
INTJ - loves stories, solving problems, learning new skills, art, and being in nature.
My Values:
Quality
Integrity
Creativity
Freedom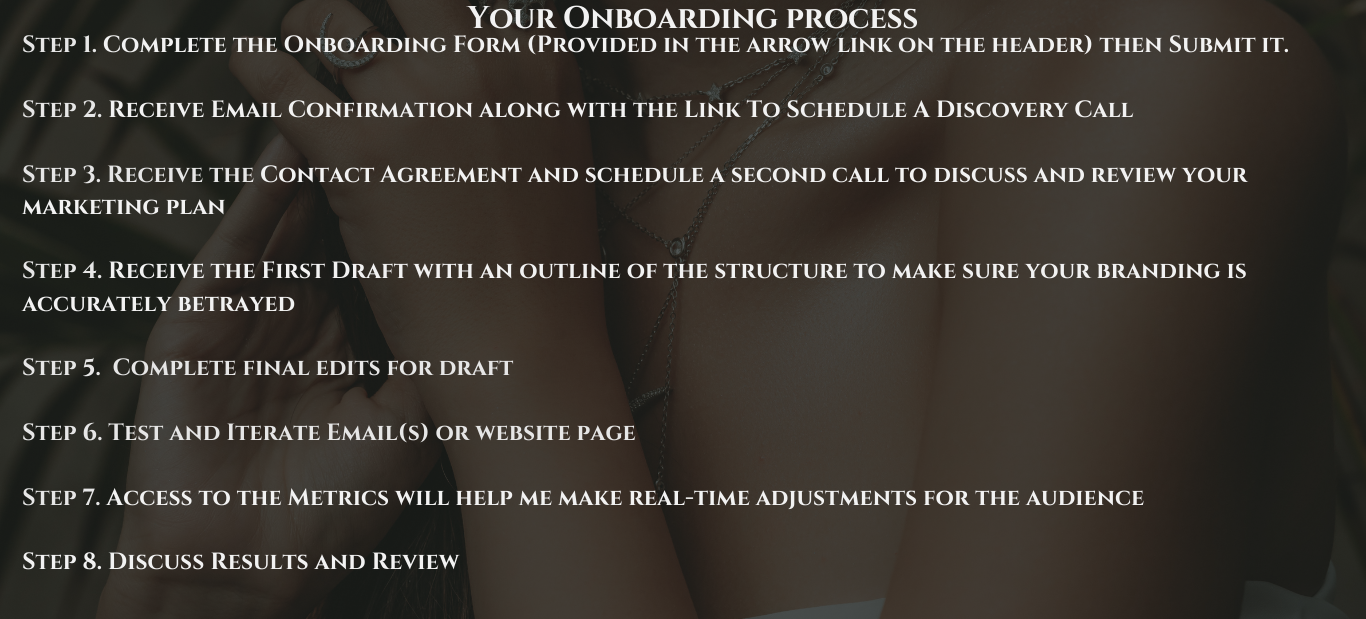 Quality Guarantee
Having copywriter mentors who have earned millions for their clients. And, working professional editors. Helped me to develop an effective process to write effective copy. 

Now focused on shaping my copy based on facts and tangible results. 
Quality is my top priority. If you don't get an ROI that justifies the price. I don't even want your money. Get a full refund, no questions asked.
We'll talk about where you want your business to be and then how we can get there. With milestone goals and results-based copywriting. Creating a higher chance of future success, fewer future problems, and more stable predictable growth.
Client Projects
Let's Bring Your Dream Business to Life!
You want to make a mark on the world. So, what's holding you back?

Change is always going to be uncomfortable. Do it scared, imperfect, and feeling unprepared anyway! Because imperfect action beats inaction any day. What's your highest priority right now?
Written 29 articles. Published on LinkedIn.
Samples
Sales Email
Landing Page
Sales Page